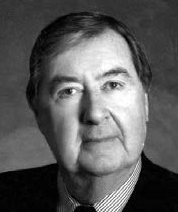 "Valley College saved my life…I never did my studying in my senior year. So my father said, "No Stanford," and told me he didn't have the money to send me. He asked me if I would mind going to Valley. I went to Valley and learned how to study. The professors were wonderful. They challenged us. We (the students) knew we better not show up for class without being ready. I never would have made Stanford, graduated, and went on to law school if it were not for Valley College." - William S. Hellyer
William "Bill" Hellyer served the community of San Bernardino as an attorney for 55 years. A product of San Bernardino, Hellyer attended San Bernardino High School and graduated in 1932. In 1934, Hellyer graduated from, what was then, San Bernardino Valley Union Junior College eight years after the college was established. At Valley, he "learned for the first time what it meant to study at night" and learned "what the word 'education' meant for those who aspired to get ahead in life." While at Valley, Hellyer competed in track, running the high hurdles and participating on the mile relay team. After receiving an associate degree from SBVC, Hellyer went on to earn his Bachelor of Arts from Stanford in 1936 and a Bachelor of Laws degree from Southwestern University in 1939.
Hellyer was admitted to the California State Bar on January 19, 1940, and retired in 1995 after fifty-five years as an attorney with the law firm Reid & Hellyer, located in San Bernardino. During his career, he served the city and people of San Bernardino in many capacities including President of the S.B. YMCA, President of the S. B. Downtown Rotary Club, member of the San Bernardino City School Board, and member of the Inland Action Group, Arrowhead United Fund, Red Cross, and Salvation Army among others. He also served in the Federal Bureau of Investigation from 1944-1946.
Of his education at Valley College, Hellyer observed "I would have never been prepared to have graduated from Stanford or to have entered law school without it." Bill Hellyer was inducted into the SBVC Alumni Hall of Fame on November 20, 1998. Hellyer passed away in 2001.