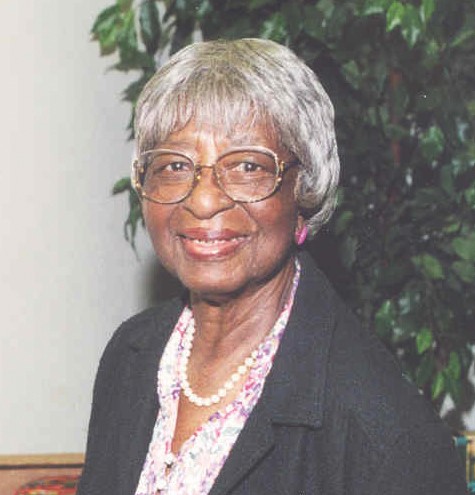 "San Bernardino Valley College provided the opportunity for me to pursue the professional career which I thoroughly enjoyed for 30 years. For this, I shall always be grateful." - Dorothy Ella Inghram
Dorothy Ella Inghram lived nearly all of her 106 years in San Bernardino. Inghram attended Mt. Vernon Elementary, Sturges Junior High and graduated from San Bernardino High School in 1923. In 1929 she attended, what was then called, San Bernardino Valley Union Junior College. In her freshmen year, Inghram composed the music for the college's alma mater; her classmate Marie Brodeur wrote the lyrics. In 1933, after completing her studies at SBVC, she transferred to the University of Redlands. There she obtained a bachelor's in music in 1936 and a master's in education in 1958. Ingrham then began her career in education at Prairie View College in Texas as a music instructor. Inghram returned to San Bernardino in 1939 to be near her ailing mother and earned an elementary teaching credential from the University of Redlands in the same year. In 1941, she was hired by the Mill School District, a small county district on the edge of San Bernardino. There she taught, served as principal and eventually became district superintendent. Inghram left the Mill School District in 1963 and in 1971 concluded a distinguished career in education as liaison-principal for inter-group relations in the San Bernardino City Unified School District. Inghram was reportedly San Bernardino County's first African American teacher, principal and district superintendent.
Inghram was also an accomplished pianist and church organist. In addition, she authored four books. Among them, "Beyond All This,'' the story of her family and other African Americans living in San Bernardino from 1888 to 1971. She has received many awards and honors over the years. The Dorothy Inghram Library, a branch of the San Bernardino County public library system, bears her name. Her 90th birthday was designated Dorothy Inghram Day in San Bernardino.
Inghram was a lifetime member of the San Bernardino Valley College Alumni Association and was inducted into the SBVC Hall of Fame in 1989. Inghram also created a scholarship at the SBVC that bears her name. On her 95th birthday, she was the recipient of the University of Redlands' first Alumni Educator of Distinction Award. In 2003, CSU San Bernardino awarded her an honorary doctorate. In 2007, she received the California Community College Distinguished Alumni Award. Mrs. Inghram passed away on March 12, 2012, at the age of 106.