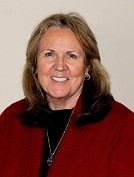 Dr. Claudia G. Peyton teaches in the department of occupational therapy at California State University, Dominguez Hills. Peyton, a San Bernardino native, attended St. Bernardine High School and graduated from San Bernardino Valley College with her associate degree. She discovered a love for science and also played varsity basketball and volleyball. Peyton was a medic and psychiatric technician in the U.S. Army Medical Specialist Corps during the de-escalation of the Vietnam conflict. She was awarded the National Defense Ribbon and the Army Commendation Medal for Meritorious Service.
Peyton returned to SBVC in 1977 to prepare for Loma Linda University's department of occupational therapy. She transferred to Loma Linda University in 1978 and completed clinical internships at the UCLA Neuropsychiatric Institute and California Children's Services, Medical Treatment Unit, in Orange County. She earned an M.S. in education from USC and earned a Ph.D. with an emphasis in psychological and cultural Studies at the University of Nebraska at Lincoln.
Peyton taught at Loma Linda University while serving as Director of Occupational Therapy and Recreational Therapy for the inpatient psychiatric unit. During her seven years at Loma Linda University, she volunteered at the Downtown Women's Center in Los Angeles and was a founding board member of Inland AIDS Project. Peyton served as chairperson of a new occupational therapy program at Creighton University in Omaha, Neb. and lead development of the first clinical doctorate in the field. She was awarded Creighton University's highest honor, the Ignatian Spirit Award and honorary induction into Alpha Sigma Nu, the National Jesuit Honor Society. She also contributed in developing the Nebraska AIDS Project and a student project in international occupational therapy serving the Dominican Republic.