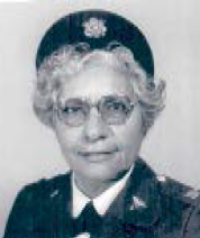 "What I remember best about SBVC is working in the SBVC Library. It was an experience which developed my curiosity and expanded my love of books and reading and respect for ideas that have consequences." - Sarah Gomez Erlach
Sarah Gomez Erlach (1922-2015) devoted her life to improving public health services for migrant farm workers in California. She drafted the proposal that set up 75 federal rural health clinics and additional state clinics. She was inducted in the SBVC Alumni Hall of Fame in 1995.
Sarah Gomez Erlach was born and raised in San Bernardino, the fourth of nine children in a Mexican-American family. Sarah attended Ramona Elementary and Alessandro Jr. High Schools, and graduated from San Bernardino High School. Subsequently, she earned her R.N. and associate degree at San Bernardino Valley College in 1945. That same year, Sarah joined the United States Army. Sarah served as a career military nurse in the U.S. Army and Army Reserve for 34 years.
After her initial tour of duty, Gomez Erlach was accepted into the University of California, Berkeley (Cal). At Cal's, Gomez Erlach double majored in education and public health. She was the School of Nursing's first Hispanic student. In 1949, she completed her Bachelor of Science degree and went to work at the Alameda County Health Department. In 1962, she graduated with a Master of Public Health degree from the University of Minnesota.
During World War II, Gomez Erlach helped establish medical-nursing care services for the 6th Army Command of nine reserve hospitals. She was later chief nurse of two army hospitals in Oakland and The Presidio. Gomez Erlach was the first California Army Reserve nurse to be promoted to the rank of colonel.
Her distinguished career in nursing and public health led to her developing and implementing public health services for migrant farm workers in California. She wrote the plan for Rural Health legislation for the State of California in 1973 and 1976, now known as the Primary Health Care and Community Service Division. After her husband, Gregory Erlach, was killed in the Korean War, she returned to the Alameda County Health Department and devoted her life to improving health care delivery to low socioeconomic families in rural communities.
Gomez Erlach retired as a colonel from the California Army Reserves in 1982 and from the California Department of Health Services in 1988 as chief of the department's Primary Health Services Unit.
Throughout her life, she received many honors including the University of California, San Francisco's highest honor; the UCSF Medal, the School of Nursing's equivalent to an honorary doctorate. She was also recognized with the Award for Excellence as a Pioneer in Primary Health Care for Underserved Groups in California by the UCSF Alumni Board.
She was an active member of a number of Professional Nursing Associations dealing primarily with Migrant Health and Hispanic Women's Health. Gomez Erlach was a member of the Hispanic Women's Health Association, Chignahuapan Club in Roseville, and of several Hispanic Nursing Organizations.