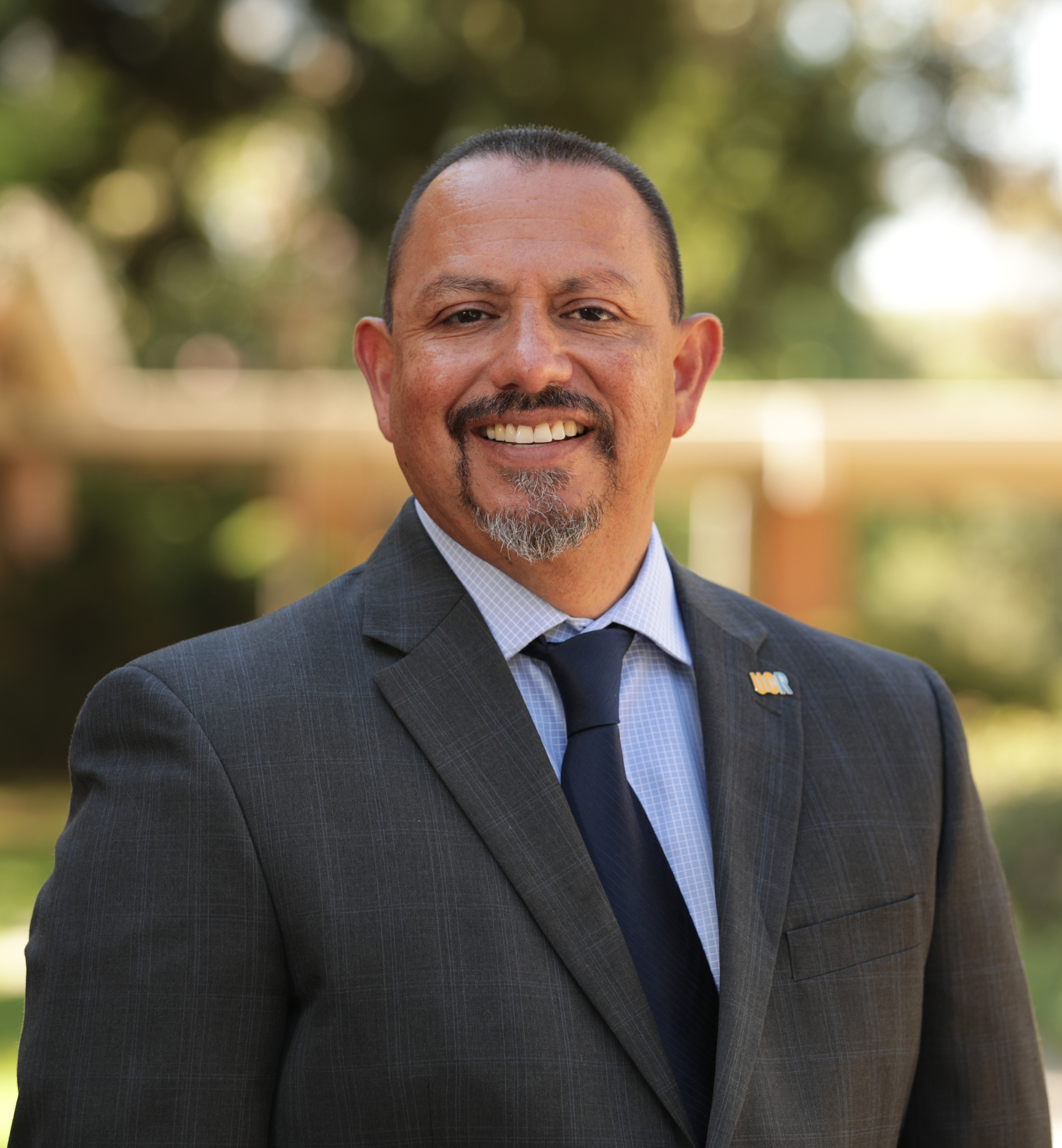 "Students, know how you are, identify a mentor, get connected to programs, dream big, surround yourself with excellence, and be a leader. After you graduate from SBVC, always find ways to give back to your community." – Dr. Louie F. Rodríguez
Dr. Louie F. Rodríguez is the Interim Dean and a Professor in the Graduate School of Education at the University of California Riverside. In 2018, he was named the Bank of America Chair in Educational Leadership, Policy, and Practice in the UCR Graduate School of Education. He is also the Founding Director of the Center for Educational Transformation at UCR.
Born and raised in the Inland Empire, Dr. Rodríguez began his journey in higher education at San Bernardino Valley College and with the support of mentors and meaningful academic opportunities, transferred to CSU, San Bernardino. As a college student at CSU, San Bernardino he became a McNair Scholar and became passionate about using research to understand and transform educational opportunities for historically marginalized students. After completing a summer research internship at Harvard, he applied and was admitted to the Harvard Graduate School of Education. After serving as a middle-school counselor/intervention specialist and later a high school math teacher, he completed two master's degrees and a doctorate in Administration, Planning and Social Policy from Harvard University.
Prior to UCR, he was an associate professor in Educational Leadership and Technology and Co-Director of the Doctoral Program in Educational Leadership at California State University, San Bernardino (CSUSB) and was also on the faculty at Florida International University in Miami for three years. Over the last 15 years he has led several community-based initiatives aimed at improving opportunities for local youth.
Rodríguez currently leads several initiatives including Los Estudiantes Valen, a partnership with a local Inland Empire high school committed to engaging students' voices and experiences to transform policy and practice. He also co-leads the Inland Empire Latinx Doctors Project, an initiative focused on recognizing and learning from an interdisciplinary group of Latinx doctors who are committed to serving the Inland Empire. His research examines issues in Latina/o/x education, Participatory Action Research, student voice, and educational equity. He also currently leads two research initiatives called CREER (and CREER-U) focused on understanding Latinx students' sources of excellence at home, school, and the community.
Dr. Rodríguez is the author of nearly 50 publications including 4 books, several articles and book chapters, and has received numerous honors including the American Education Research Association (AERA) Hispanic Research Issues SIG Award for Research in Elementary, Secondary, and Postsecondary Education and recognition by the Harvard Latino Alumni Alliance in 2019. Additionally, he was honored with the Outstanding Latino Faculty by the American Association of Hispanics in Higher Education (AAHHE) in 2015 and was designated as an "Emerging Leader" in 2014 by Phi Delta Kappa International in Washington, DC. He currently sits on the President's Chicano/Latino Advisory Council for the University of California. In addition to his scholarship, he has provided expert commentary in various publications including The Atlantic, U.S. News and World Report, Hispanic Outlook on Education Magazine, and others.
Dr. Rodríguez's experience at SBVC was particularly transformative. He learned how to study and thrive as a student. At SBVC he acquired his hunger for knowledge. His fondest memory was meeting his counselor for the first time, Laura Gomez. She asked him about his aspirations and put him on a two-year plan to transfer to a four-year university. Her belief in his ability to achieve was the foundation he needed to dream about various possibilities in education. For current students, he recommends that students know how you are, identify a mentor, get connected to programs, dream big, surround yourself with excellence, and be a leader. After you graduate from SBVC, always find ways to give back to your community.