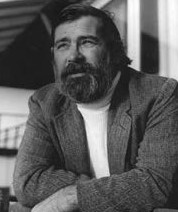 "College stood as the very image of what 'higher education' meant to me, and when I actually started to attend school there in 1954, here was the feeling of having come home, and at the same time of having advanced in the world tremendously. Beyond that, there were the teachers. I had many good teachers at SBVC – one of which, Joe Allen, actually persuaded me that I knew something about geology. But one above all the others can be said to have helped nudge me in my life's direction – Ellis Speckman, a Clifton Webb look-alike who had the extraordinary gift of being able to bring humor, insight, excitement, and great understanding to the teaching of history. He taught me that history was stories, and I have been trying to tell them ever since. That is a legacy I treasure." - T.H. Watkins
Thomas Henry Watkins, professionally known as T.H. Watkins, was a historian of the American West, a magazine editor and a prolific writer on environmental issues. The conservationist was born in Loma Linda and graduated from St. Bernardine High School in San Bernardino. In 1956, Watkins graduated from San Bernardino Valley College where he was an all-conference selection in football. He then graduated from the University of Redlands with a bachelor's degree in English and a minor in history. Watkins held editorial positions with magazines including The American West (1966-76), American Heritage (1976-82) and Wilderness (1982-97). While working at Wilderness magazine, he was a protégé of novelist and conservationist Wallace Stegner. Watkins also taught at Montana State University in Bozeman, where he became the Wallace Stegner Distinguished Professor of Western American Studies.
Watkins authored over 100 articles and published 28 books. Among his work, the critically acclaimed, "Righteous Pilgrim: The Life and Times of Harold L. Ickes''. The 1990 biography chronicled Harold L. Ickes, a crusading Secretary of the Interior for President Franklin D. Roosevelt who, among his accomplishments, doubled the acreage of America's national parks. The book became a National Book Award finalist and winner of the Los Angeles Times Book Award for biography. In 1993, Watkins wrote "The Great Depression: America in the 1930s", which later became the "companion volume" for a PBS-TV documentary on the Depression. Watkins' 1999 "The Hungry Years: A Narrative History of the Great Depression", was acclaimed by Michael Kazin in the New York Times as possessing "the intensity and warmth of a photo by Dorothea Lange or a novel by John Steinbeck."
Watkins passed away February 23, 2000 at age 63. At the time of his death, Watkins was still teaching at Montana State University. His ashes are in the canyons of Southern Utah which he called, "the very home of my heart."