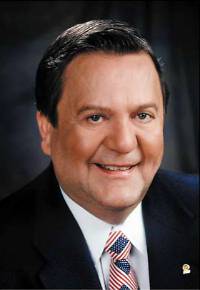 "Valley College was a tremendous first step in my career. I will never forget my counselor, Mr. Spackman. He wanted me to succeed more than I wanted to succeed. He saw a potential in me that I didn't recognize." – Jack H. Brown
Jack H. Brown (1940-2016) was the Executive Chairman of Stater Bros. Markets, one of the nation's largest supermarket chains and among the top 500 of the nation's largest corporations. Brown, a native of San Bernardino, attended Washington and Lytle Creek elementary schools and later went on to Richardson Junior High. In 1956, Brown graduated from San Bernardino High School. He subsequently matriculated to San Bernardino Valley College where he was a business administration major from 1956-57 and 1958-59. At SBVC, he was involved on campus and was the founding president of the first Greek fraternity, Beta Tau Omega. After SBVC, Brown continued his studies at San Jose State University and UCLA and served in the United States Navy.

Brown started his grocery store career at 13 as a box boy at Berk's Market Spot in San Bernardino. He worked in management at supermarkets including Sage's Complete Markets in San Bernardino, Pantry Food Markets in Pasadena, Marsh Supermarkets in Indiana and American Community Stores Corp. of Omaha, Nebraska.
Brown was the founding chairman of Children's Fund of San Bernardino County, an agency devoted to assisting vulnerable and at-risk children. He served on the boards of the American Red Cross, Goodwill Industries, and the YMCA. Brown was also named Humanitarian of the Year by the Southern California Chapter of the National Conference of Christians and Jews in 1988 and was the first recipient of CSU San Bernardino's Arrowhead Distinguished Chief Executive Officer Lecture Award in 1990.
In 1991, Jack H. Brown was inducted into the SBVC Alumni Hall of Fame as well as the San Bernardino High's Athletic Wall of Fame. One of ten Distinguished Americans to receive the Horatio Alger Award, Brown was recognized for his outstanding contributions to America. He was the first SBVC alumnus to receive the California Community Colleges Distinguished Alumni Award in 1993. At California State University, San Bernardino, the Jack H. Brown College of Business and Public Administration and Jack H. Brown Hall are named in his honor.
Brown also received the highest honors from the grocery and supermarket industries. In 2001, he received the Hall of Achievement Award from the California Grocer's Association, and in 2005 he received the Sidney R. Rabb Award from the Food Marketing Institute.
In 2006, he was awarded two honorary degrees, a Doctorate of Humane Letters by California State University, San Bernardino as well as a Doctorate of Humanitarian Service from Loma Linda University's School of Medicine. The following year, in 2007, Brown was awarded an Honorary Doctorate of Humane Letters by the University of Redlands. In 2011, Brown received the Patriot Award, the highest award the Congressional Medal of Honor Society can bestow upon an individual. The Award is presented to distinguished Americans who exemplify the ideals that make our country strong and is voted upon by the exclusive group of previous Medal of Honor Recipients.