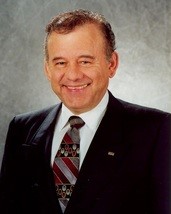 The late H. Frank Dominguez (1939-2004) founded the Vanir Group of Companies, Inc. in San Bernardino in 1964. His legacy, in real estate and business ventures, was surpassed only by his philanthropic contributions and dedication to increasing educational opportunities for those less fortunate.
Dominguez's success held humble origins. As a native of San Bernardino, he attended Burbank Elementary school and graduated from Colton Union High School. From 1957 to 1958, Dominguez attended San Bernardino Valley College. Dominguez later served four years in the United States Army. He was stationed in Germany, where he met his wife of 42 years. Later he returned to San Bernardino and founded the Vanir Group of Companies, Inc. at the age of 25.
The Vanir Group of Companies, Inc. includes Vanir Construction Management, Inc; Vanir Development Company, Inc., in addition to several other ancillary companies. The corporation handles real estate developments, design-build leases and construction services. Under his leadership, the Vanir Group completed over $6 billion in real estate developments, design-build leases, and construction services.
After Dominguez's death in 2004, his daughter Dorene C. Dominguez created a foundation in his honor that empowers children in underserved communities to recognized their full educational potential called The Dominguez Dream.
Dominguez was recognized with numerous honors for his business acumen and community leadership throughout his life. One of his most prestigious commendations was being selected by the U.S. Hispanic Chamber of Commerce as Outstanding Hispanic Businessman of the Year. He was also appointed to the California Commission for Economic Development by the Governor of California and served on Advisory Councils and Committees for past Presidents of the United States.
Dominguez served as a board member for the Mexican American Legal Defense and Educational Fund. He also served as a founding board member of New America Alliance, an economic development and philanthropic organization comprised of nationally prominent Latino business leaders. Posthumously, in June 2004, the New America Alliance (NAA) honored Dominguez by awarding him their Lifetime Achievement Award in Philanthropy. The NAA also renamed their annual award recognizing philanthropy, The H. Frank Dominguez Philanthropist of the Year Award.
Dominguez maintained a business and personal philosophy dedicated to giving back to underserved communities. He was inducted as part of SBVC's Hall of Fame in 1998.