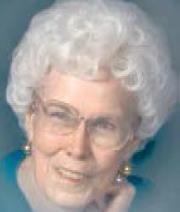 Dr. Dorothy L. Pethel received her associate degree from San Bernardino Valley College in 1953, where she completed the school's licensed vocational nursing program. After shifting her educational and career goals from vocational to professional nursing, Pethel earned an associate degree in registered nursing at Riverside City College. She then earned a bachelor's in nursing at California State University, Los Angeles; a master's in health education at California State University, Sacramento; and a doctorate in health education at California National University.
Pethel joined Sierra College as a vocational nursing instructor in 1969 and served as the college's Director of Vocational Nursing from 1979 to 1986. She then became Director of Nursing and Health Sciences in 1986 and continued in that capacity until she retired in 1988. She was also employed with the State of California Department of Mental Hygiene at Patton State Hospital in Highland for nine years. Pethel was inducted into the SBVC Alumni Hall of Fame in 1989.
After retiring from Sierra College, she continued to work as a licensed marriage, family and child counselor and as a freelance writer. Pethel earned a Doctorate in Addictions Counseling from the Board of Addiction Examiners in 1996, her second doctoral degree. She also produced and directed audio-visual tapes on "Death and Dying" and "Heart Attack", and published articles on public health and nursing. She also established the Dorothy Pethel Nursing Scholarship at SBVC. Dr. Pethel passed away in 2011.