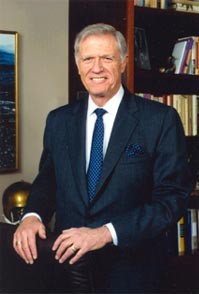 Dr. Charles Edward Young was Chancellor of University of California, Los Angeles for 29 years, serving from September 1, 1968 to June 30, 1997. Embarking upon the position at the age of 36, Young was the youngest person to ever head a University of California campus and also retired with the longest tenure as chancellor in the University of California system's history. Born in Highland, Young attended San Bernardino High School. From 1948 to 1950, during his initial studies at San Bernardino Valley College, Young played football, was Commissioner of Fine Arts, and met his wife of 50 plus years, the late Sue K. Daugherty Young.
Although his education was interrupted, Young's academic achievement soared in 1952 when he returned from military service in the Korean War. He was also elected president of SBVC's chapter of Alpha Gamma Sigma, the California community college scholarship society. He received his associate degree at SBVC in 1953 and transferred to the University of California, Riverside, where he was the school's first student body president and was later elected to Phi Beta Kappa. He graduated with honors in 1955 and enrolled at UCLA, majoring in political science. Young earned a Doctor of Philosophy in 1960. That same year, he accepted an appointment to UCLA as Assistant to the Chancellor and professor of politics.
Young was instrumental in lifting the Westwood campus to the company of elite research universities. During his tenure, the school put together a distinguished faculty that ranked among those at Harvard, Yale, Stanford, and UC Berkeley. The onset of Young's chancellorship saw the university with one endowed professorship, fewer than three million library volumes, an endowment of $6.1 million, and an operating budget of $170 million. Upon Young's departure, UCLA boasted over 100 endowed chairs, over six million library volumes, an endowment of over 700 million, and a budget of nearly $2 million.
Young was also a member of the Los Angeles Olympic Organizing Committee and was active in improving understanding and relations between the United States and nations of the Pacific Rim. He was a member of the board of directors of Intel Corporation and Student Advantage, Inc. and a member of the National Committee on United States-China Relations. Young was elected to the American Academy of Arts and Sciences in 1994. He has received countless awards including the Award for Inter-American University, the International Education Leadership Award, the Neil H. Jacoby International Award, and the Albert Schweitzer Leadership Award. He also holds honorary doctorates from the University of Judaism (1969) and Occidental College (1997). Young was inducted into the SBVC Hall of Fame in 1989.
In 1994 Young received the Edward A. Dickson UCLA Alumnus of the Year Award in recognition of his 25th anniversary as chancellor, and in 1996 the UC Riverside Alumni Association Distinguished Service Award. Among many dedications, during his last year as chancellor, UCLA's Chancellor's Humanitarian Award was renamed the Charles E. Young Humanitarian Award. Young retired from UCLA in June 1997. From 1999 to 2004, he served as president of the University of Florida and subsequently served as president of the Qatar Foundation for Education, Science and Community Development from 2004 to 2006. He became CEO of the Los Angeles Museum of Contemporary Art from 2008 to 2010.