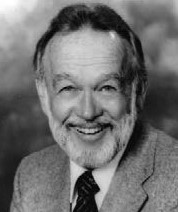 "Why not let Valley help you the way it helped me? I'm a 9th grade dropout, an unfinished piece of work. Although my attendance at Valley was sporadic, it helped me a great deal. I took my first sales class at Valley. It was the right thing at the right time in my life. I had caring instructors who helped me focus on my strengths so I could decide where I wanted to go with a career. I discovered that I loved cars and I loved people and I would be perfect as a car salesman." - Charles Obershaw
Charles D. "Chuck'' Obershaw (1926-2019) is the former owner and CEO of Chuck Obershaw Toyota in San Bernardino.
Obershaw is a 1950 San Bernardino Valley College graduate; during his time at SBVC he was a cheerleader and member of Campus Carousel, an on-the-air radio team. A San Bernardino High School graduate and believer in hard work and education, Obershaw gave many college scholarships to local high school graduates over the years. He was a generous donor to scholarships at Cal State San Bernardino and to the Obershaw Music Scholarship at SBVC, and in 2006 the SBVC Automotive Department was named after him.
Obershaw was named one of 23 living legends in the community at the Assistance League of San Bernardino's 36th annual Headdress Ball. He is past president of the San Bernardino Motor Car Association, past president of the San Bernardino Area Chamber of Commerce, and past president of the U.S. Air Force Association. Obershaw served on the Board of Directors of the National Orange Show, the YMCA, and the Community Hospital. He has assisted Arrowhead United Way, Children's Fund of San Bernardino County, Lighthouse for the Blind, and the YWCA. His auto dealership received the Import Auto Dealer of Distinction award from the Sports Illustrated American International Auto Dealers Association.
Obershaw has also received numerous awards for his contributions to the U.S. Air Force; he served in the 187th Paraglider Infantry in the Pacific during World War II. He received the Air Force Association's Exceptional Service Award and the Military Order of World Wars' Patrick Henry Medallion for patriotic contributions. Chuck is survived by his wife, Shelby, and his five children.