How can YOU help students?
SBVC students are grateful for the direct support provided by scholarships. The SBVC Foundation also helps college programs with equipment, supplies, and activities to enrich the student experience. If you are interested in helping students achieve their educational and career goals, the SBVC Foundation can help! Contact us to discuss how your gift can make the difference for our students and community. The Foundation is a non-profit 501(c)(3) organization; therefore, contributions to the Foundation are tax-deductible.

---
2018-2019 Annual Report
San Bernardino Valley College Foundation is proud to release our 2018-2019 Annual Report. Each year our offices release the report as a review of the year's events, which also includes:
A message from the SBVC Foundation President
Community, Campus, Program, and Alumni/Donor Spotlights
Donor Appreciation
Financial Statements
Ways to help support SBVC students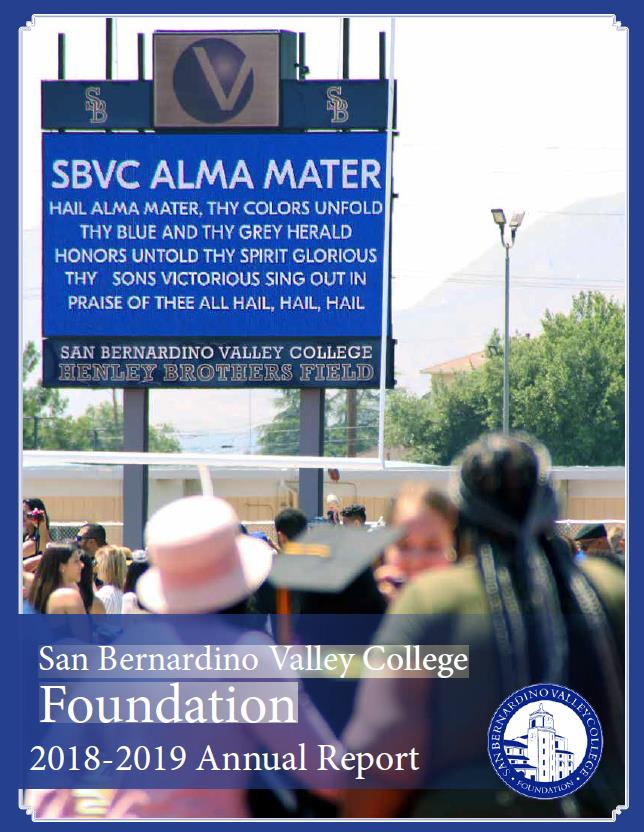 ---

Supporting Inland Empire Student Needs
In response to a growing need to support students affected by the COVID-19 pandemic, Growing Inland Achievement has issued 14 grants to local nonprofits organizations and programs, totaling more than $255,000. San Bernardino Valley College Foundation was awarded $15,000 in emergency grant funds to be used to support students in the Inland Empire with technology, basic needs, and college transition.
Learn More: Emergency Grants Announced by Growing Inland Achievement
---
10th Annual SBVC Foundation & Athletics Golf Tournament