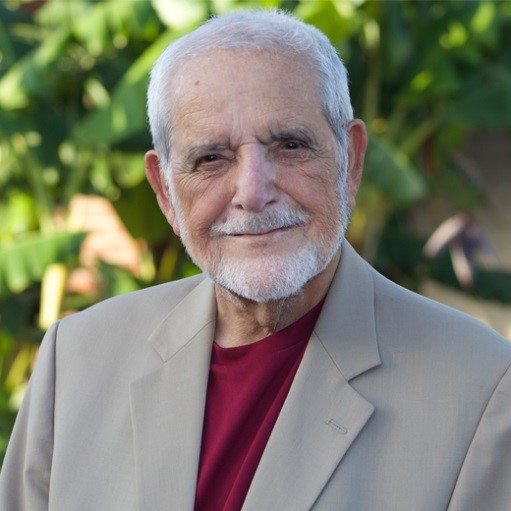 Born and raised in Colton, Dr. Ernest F. Garcia is a lifelong educator and advocate for the arts. His celebrated educational career originated with an associate's degree from San Bernardino Valley College, where he majored in Spanish.
In early 1950s, Garcia's college career was interrupted by the Korean War. During the war, Garcia served in the U.S. Air Force where he was stationed in Japan. In 1955, he completed his bachelor's degree in Social Science from the University of California, Riverside. He went on to attain his master's degree in School Administration and Curriculum from the University of Redlands, and completed his doctorate in Instructional Technology from University of California, Los Angeles in 1966.
Dr. Garcia was an influential teacher at elementary schools in Barstow, Redlands, and Rialto. He later transitioned into an administrative role within the Rialto Unified School District. To make a greater impact in the educational system, he joined the faculty at the University of Redlands as an associate professor of Education in 1967. A year later Dr. Garcia joined the faculty as a professor in the Education Department at California State University, San Bernardino. In 1979, he was selected as dean of the School of Education where he served as administrator until his retirement in 1990.
Dr. Garcia was a Rialto Unified School District trustee from 1970-79, and a Rialto elementary school bears his name. Garcia was selected by UCR as one of 40 graduates who "Made a difference.'' Among many, his community contributions include serving as president of the National Orange Show board of directors in 1996 and president of the San Bernardino Valley Concert Association numerous times. In 1997, he was inducted into SBVC's Hall of Fame.
The San Bernardino Garcia Center for the Arts is named for Dr. Ernest Garcia and his wife, Dr. Dorothy Garcia. The center opened November 14, 2015 and provides a cultural center for the San Bernardino community.
Drs. Ernest and Dorothy Garcia live in San Bernardino and still remain active in their community.