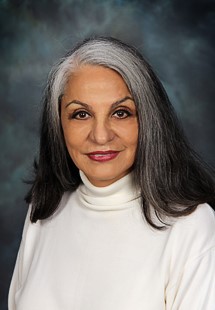 "San Bernardino Valley College, known as "Valley" in 52', salvaged a generation of us. Two professors in particular saw potential in me that I did not see. Their encouragement and support provided the foundation for me to 'dare to compete'." – Dr. Judith Valles
The daughter of Mexican immigrants, Dr. Judith Lopez Valles graduated from San Bernardino High School in 1951 and attended San Bernardino Valley College from 1952 to 1953. Valles taught elementary and high school for several years and simultaneously graduated from the University of Redlands with a bachelor's degree in English (1964). She later earned her master's in Spanish literature at the University of California, Riverside (1970) and did doctoral work at UCLA. Valles was appointed to the SBVC faculty in 1965 and taught Spanish until 1984. She headed the department of foreign languages from 1972 to 1976, chaired the division of humanities from 1976 to 1981 and was dean of Extended Day and Summer Session from 1981 to 1983.
Valles was the administrative dean of academic affairs from 1983 to 1987, she also held the position of chief instructional officer at the college and the position of executive vice president of academic and student affairs from 1987 to 1988. Valles was appointed president of Golden West College in 1988 and was chief executive until retiring in 1993. Valles has also served as acting president of Coastline Community College, Oxnard College and was a San Bernardino Community College District trustee. She produced and hosted a Spanish-speaking television show, "Impacto," for KVCR-TV and "La Voz" at KCSB and has been involved in the performing arts.
Valles has been the subject of three doctoral dissertations on leadership, and invited to lecture on gender and leadership issues as a visiting professor at Harvard University. She received the Citizen of Achievement Award from the League of Women Voters in 1989 and the YWCA Outstanding Women of Orange County Award in 1990. She was inducted into the SBVC Alumni Hall of Fame in 1991. In 1998, Valles established the Valles Family Scholarship at San Bernardino Valley College as an embodiment of her love of family and commitment to students and higher education. She received an honorary doctorate from the University of Redlands in 2000 and the California Community Colleges' Distinguished Alumni Award the same year. She received the Ohtli Medal in 2003 from the government and people of Mexico for her contributions to the Mexican-American community. Valles was elected mayor of the City of San Bernardino on February 3, 1998 and was reelected in 2002. Valles was the first Hispanic mayor of the City. After completing her terms as mayor, she was appointed President of Los Angeles Mission College.