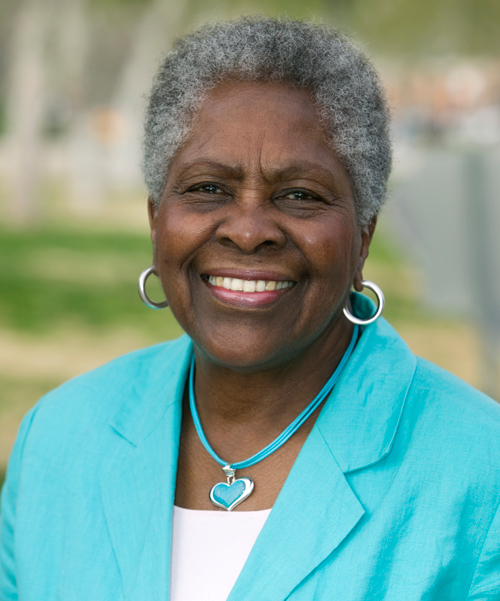 "The community college is truly the people's college. San Bernardino Valley College met my need at a critical time as a foundation to further my education. Later, I was afforded the opportunity to make a contribution, and return to the college and the district as a trustee. I am honored to be selected for recognition."  - Lois Montgomery Carson
Lois J. Montgomery Carson was a lifelong advocate for community action with a celebrated thirty-year career as executive director of the Community Action Partnership (CAP) of Riverside County. Lois was elected to the San Bernardino Community College Board of Trustees in 1973 and served the district for twenty-four years. More recently, she continued to be an active supporter of SBVC Foundation Services and was inducted into the SBVC Alumni Hall of Fame in 1997.
Carson was born in Memphis, Tennessee, where she attended St. Augustine Catholic High School. As the valedictorian of her school, she won several scholarships, including a prestigious scholarship from the United Negro College Fund. She subsequently matriculated to Wilberforce University, the first private historically black university in America.
Later, Carson moved to the Inland Empire with her husband, Harry Carson (SBVC class of 1959), who served for thirty-two years in the Air Force Reserves. Together they raised six children and were married for fifty-five years.
In San Bernardino, Lois resumed her post-secondary education at San Bernardino Valley College and graduated SBVC class of 1965. She continued on to earn a Bachelor of Arts degree in English at California State University, San Bernardino in 1967 and later attained two Master of Arts degrees in English and Education from the University of California, Riverside.
Lois Carson was the first minority to be elected to the San Bernardino Community College Board of Trustees. During her years on the SBVC Board of Trustees, she served two terms as president, in addition to serving as board clerk and vice-president. Carson advocated for childcare, transfer centers, the EOP&S program, welfare reform and community dialogues during her trusteeship. On the national level, she served seven years on the Board of the Association of Community College Trustees (ACCT) and as a member of the Accrediting Commission for Community and Junior Colleges (ACCJC).
In recognition of her service to education, Carson received the ACCT's M. Dale Ensign Trustee of the Year Award in 1992. As the Executive Director of Community Action Partnership of Riverside County, Carson was twice named Riverside County Administrator of the Year, in recognition of her contributions to human and community development.
In 2007, Carson received the Lyndon Baines Johnson Human Services Award for her work helping lower-income families. The following year she was named Woman of the Year in California's 62nd District by Assemblywoman Wilmer Amina Carter (D-Rialto). As testament to her numerous accomplishments, Carson has also been honored as a Distinguished Alumna by California State University, San Bernardino and University of California, Riverside.
Additionally, she served on the SBVC Foundation and the Philanthropic Board for California State University, San Bernardino. She belonged to community-based non-profits including the National Council of Negro Women, Black Future Leaders, Inc., Alpha kappa Alpha Sorority, Inc., and the Ladies Auxiliary of the Knights of Peter Claver.