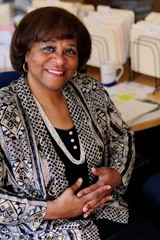 "I received my A.A. degree from Valley College in 1966. The College provided me with some of the most distinguished professors that I have had. As a matter of fact, it was my exposure to professors at Valley College that planted the seed for me to choose an academic career myself." - Dr. Yolanda Moses
Dr. Yolanda T. Moses is a professor of anthropology and a nationally recognized expert on cultural diversity. She is the former president of The City College of New York, one of nine colleges of the City University of New York; there she was the first female president. She dedicated herself to ensuring CCNY's place as one of America's premiere urban public institutions. Moses graduated from Perris High School and attended SBVC, where she earned her associate degree in 1966. After she obtained her bachelor's degree in sociology at California State University, San Bernardino, she earned her master's and doctorate in anthropology at the University of California, Riverside.
Dr. Moses was a faculty person at California State Polytechnic University, Pomona, from 1985 to 1988 and Vice-President for Academic Affairs and professor of anthropology at California State University, Dominquez Hills, from 1988 to 1993. At Cal Poly, Pomona, she chaired the Ethnic and Women's Studies Department and served as Dean of the School of Liberal Arts. She was also an Andrew Mellon Postdoctoral Fellow at the Center for Advanced Studies in the Behavioral Sciences in Palo Alto. Moses has published extensively and served as the 74th president of the American Anthropological Association, the world's largest association of anthropologists. She has served as a trustee of the Ford Foundation and in 1997 received UC Riverside's 1997 Distinguished Alumnus Award. From 2000 to 2003, she was president of the American Association for Higher Education.
Dr. Moses is the wife of James F. Bawek and the mother of daughters, Shana and Antonia. Moses was inducted into the SBVC Alumni Hall of Fame in 1995. She has been involved with numerous national higher education projects and publications, and has been a faculty member in Austria's Salzburg Seminar's ISP Program. Dr. Moses is currently professor of anthropology and Associate Vice-Chancellor for Diversity, Excellence and Equity at the University of California, Riverside.