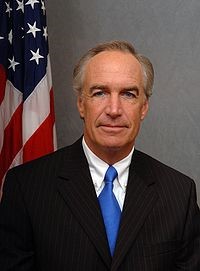 Dirk Arthur Kempthorne
has been governor of Idaho, a U.S. Senator and served as the 49th U.S. Secretary of the Interior under President George W. Bush from 2006 to 2009.
Beginning his career in public service, Dirk Arthur Kempthorne was elected mayor of Boise in 1985 and served seven years. Kempthorne was then elected U.S. Senator and served from 1993 to 1999. He was elected Governor of Idaho in November 1998. Declaring it the "Generation of the Child," Kempthorne's first two years as governor were marked by his efforts to ensure that Idaho children were healthy and well educated. He was re-elected governor in 2002. Kempthorne was later nominated by President George W. Bush to become the 49th United States Secretary of the Interior and served from 2006 to 2009.
Kempthorne was raised in San Bernardino where he graduated from San Gorgonio High School in 1970 and attended San Bernardino Valley College from 1970 to 1971. He transferred to the University of Idaho where he was elected student body president during his junior year. He graduated in 1975 with a degree in political science. Kempthorne became assistant to the director of the Idaho Department of Lands and was executive vice-president of the Idaho Home Builders Association. Kempthorne was also state public affairs manager for FMC Corp., which provides innovative and cost-effective solutions for countless industries.
Governor Kempthorne gave the 1999 commencement address at San Bernardino Valley College; on that occasion he was inducted into the San Bernardino Valley College Alumni Hall of Fame. He noted, "The knowledge I gained at Valley College, and the people who I met, have given me skills and memories that will last a lifetime. To be selected as a member of this group is indeed an honor." In 2010, Kempthorne became president and CEO of the American Council of Life Insurers. He was elected chairman of the Global Federation of Insurance Associations for a two-year term in 2014. Kempthorne has also served as chairman of the National Governors Association and Western Governors Association, as well as president of the Council of State Governments.