SBVC Foundation Virtual Scholarship Awards Ceremony
San Bernardino Valley College Foundation Scholars and Donors Recognized in Virtual Scholarship Awards Ceremony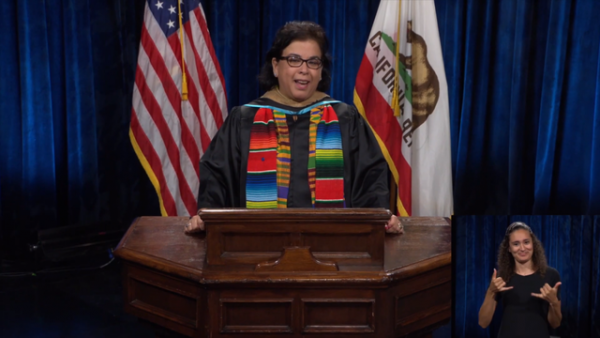 The San Bernardino Valley College Foundation's Scholarship Awards Ceremony was held virtually on June 4, 2020 at 6:00 P.M. and was streamed live from the Foundation's website at www.sbvcfoundation.org. A recording can be viewed on Youtube at Scholarship Awards Ceremony. The digital ceremony commemorated the success of more than 250 student scholarship recipients, with 55 of those students receiving multiple scholarship awards. SBVC Foundation scholarships are funded by over 135 donors. These generous sponsors have made possible a total of 426 scholarships, collectively exceeding $200,000.

Many donors, both individuals and organizations, contribute to several different scholarship funds with the San Bernardino Valley College Foundation. These include Ann Schmidt, Dr. Robert W. Percy, Yvonne Beebe, Chuck and Shelby Obershaw, The Community Foundation, SBVC Classified Senate, and SBVC Latino Faculty, Staff, and Administrators Association, among others. Donors will often choose to pool their funds with family and friends to memorialize a loved one through a named scholarship, such as with the Aram M. Sogomonian Memorial, the Diana Gloria Harrison Martinez Memorial, the Estelle and Stan Heydenfeldt Memorial, the Librada Sosa Cave Memorial, and the Walter and the Fernanda Douglas Memorial, among many others. Still other benefactors may contribute to supporting scholarships named for programs, such as the Susan Shimoff Excellence in Child Development, or organizational recognition like the Edison Green Jobs Education Initiative, Edison/STEM, the Norton Air Force Base Museum, the Zonta Club of San Bernardino, and Cardenas Markets.

All donors and the students who were selected for scholarships were recognized in the virtual awards ceremony. The SBVC Foundation is grateful to donors for their investment in the future of our students and community. For information on how to support scholarships at San Bernardino Valley College, contact the San Bernardino Valley College Foundation at sbvcfoundation@valleycollege.edu or visit its website at www.sbvcfoundation.org.