SBVC Foundation and Athletics 9th Annual Golf Tournament
San Bernardino Valley College Foundation and Athletics raised more than $30,000 to support San Bernardino Valley College students and student athletes at Ninth Annual Golf Tournament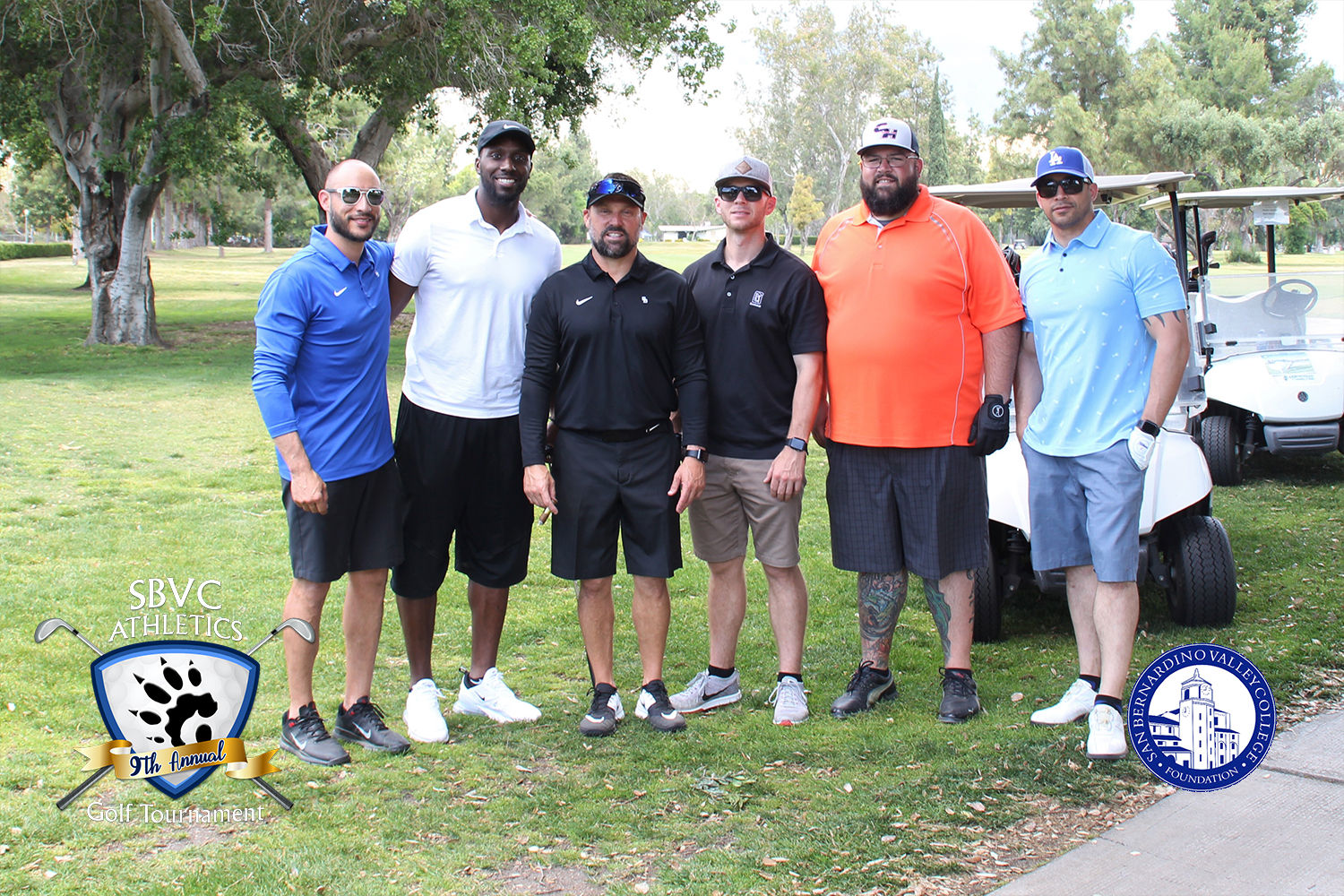 The San Bernardino Valley College Foundation (SBVC Foundation), in collaboration with San Bernardino Valley College (SBVC) Athletics, held its Ninth Annual Golf Tournament on Friday, April 19, 2019 at the Arrowhead Country Club in San Bernardino. Together, the SBVC Foundation and SBVC Athletics raised over $30,000 to support SBVC student athletes and general student scholarships.
At 11:30 a.m., SBVC student athlete volunteers and SBVC Foundation staff began registering players and distributing swag bags to golfers. SBVC Foundation President Beverley Powell and student athletes sold opportunity drawing tickets for prizes which included gift baskets (filled with wine, gear, and gift cards), a variety of gift certificates and a 50-inch Insignia 4K television.
The golf tournament began at 12:30 p.m. with a shotgun start and 124 golfers took to the course. Contests, which took place throughout the day, included a "longest drive" competition, a putting contest, and a "hole-in-one" contest for a new car sponsored by Fairview Ford. Longest drive winners were Peggy Cartwright and Robby Melton.
After the tournament, golfers and guests convened for dinner and the awards reception. Nick Nazarian, Interim Director of Development and Community Relations, facilitated the evening's activities, which included a screening promotion of SBVC's 2019 International film festival, the commemoration of Michael Sola's retirement after 37 years of service to SBVC Athletics, and the announcement of the golf tournament winners.
First-place tournament winners were Mike Sola, Eric Swanson, Jim Reich, and Bob Reedy. The tournament's second-place winners included Jeff Grotewald, Kipp Gross, Jim Williamson, and Mitch Calloway. The third-place team included golfers David Alvarez, David Pidal, Ron Elder, and Mike Contrera.
The evening continued with the opportunity drawing winners being announced by SBVC Radio, Television, and Film student, Mike Wexler. Wexler, who also acted as the evening's auctioneer, kept the attendees engaged and excited as they bid on a variety of sports memorabilia. All proceeds from the auction helped fund San Bernardino Valley College student scholarships.
The event's major sponsors included HMC, Follett, P2S, Rich & Sharyn Beemer, and Redlands Community Hospital.